Mogadishu November 14, 2022 (SD) – The United States has announced that it has increased the bounty it previously placed on three leaders of the Al-Shabaab group.
The reward money previously placed on these men was five million dollars and is now been increased to 10 million dollars given to anyone providing information about the whereabouts of the top leaders of the Al-Shabaab organization.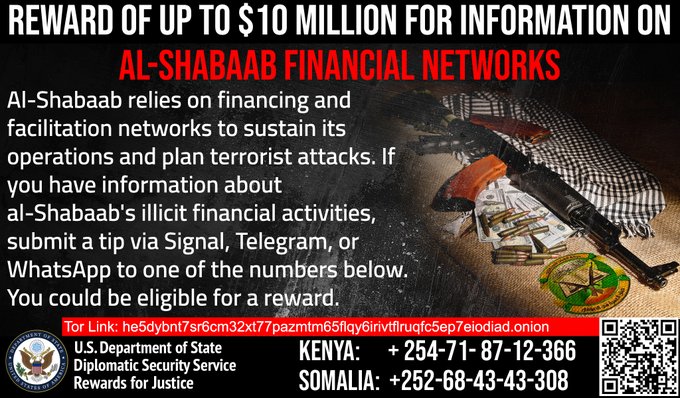 "Rewards for Justice is offering a reward of up to $10 million for information leading to the disruption of the financial mechanisms of the terrorist organization al-Shabaab. Al-Shabaab's financial operations and facilitation networks help sustain its operations and fund its terrorist attacks that have resulted in thousands of deaths of innocent civilians and security forces in Somalia and neighboring countries." said the statement from the U.S. Embassy.
The US ambassador in Mogadishu at the US Kenyan embassy said that these men are responsible for terrorist attacks in Somalia, Kenya and neighboring countries that have killed thousands.
The U.S. is not just promising a cash reward for those who may have information on Al Shabaab leaders but a possible relocation incentives.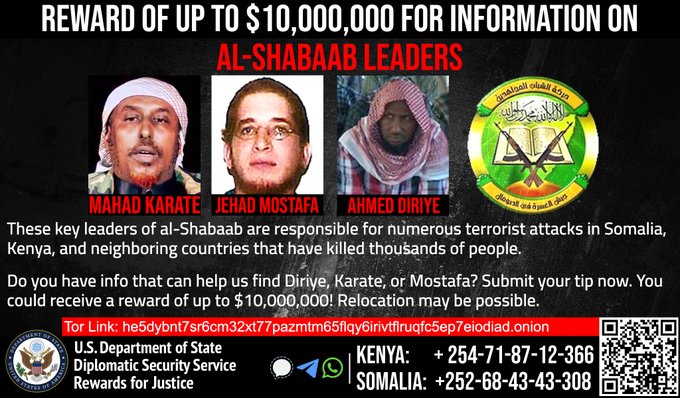 The leaders mentioned in the announcement are Mahad Karatay and Jehad Mustafa and Ahmed Diriye, who are the top leaders of the Al-Shabaab organization affiliated with Al-Qaeda.